There are thousands of analytical laboratories in the US and around the world. Choosing the right one can be crucial to ensuring that you get accurate results that you can use. To choose a lab we first try to determine what the purpose of the analysis is: Regulatory, R&D, Quality Control, Legal, or Specialty.
Regulatory analyses are primarily focused on measuring materials to confirm that they meet government regulations. Materials can range from biomaterials to nuclear to food to pharmaceuticals, and they require labs whose analyses will be accepted by a government agency, so understanding both a lab's capabilities and quality program is important.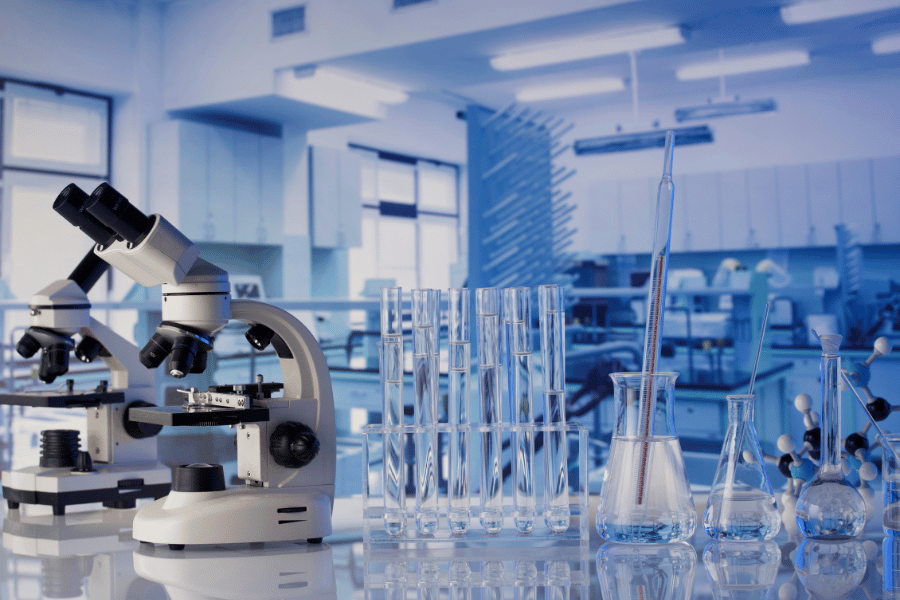 R&D analyses revolve around the specific material properties that the customer is trying to understand. Knowing what instrumentation and technical expertise are available is important and lab innovation, flexibility, and state-of-the-art tools are key. While quality is important, accredited quality programs may not be necessary. R&D can be a race against time due to tight research schedules so knowing which labs have faster turnaround can be crucial.
Quality Control is similar to R&D but requires labs that can routinely provide fast turnaround and have reliable instrumentation and backup systems. QC analyses may also require that labs be able to perform or are accredited for specific test methods such as ASTM, ISO, or USP. Many of our requests come from customers who have little or no knowledge about a test method, all they know is that their product needs to be tested to a specific method in order for their customer to accept it. Our huge database of labs and the methods they perform is particularly helpful here.
Legal analyses are a special breed. They might require specific instrumentation due to a particular piece of analytical equipment referenced in a patent, or they might require an analyst with specific technical knowledge and expertise who is able and willing to do the analysis and be deposed or serve as an expert witness in court. Analyses that will be used in court also need to be bulletproof, since the opposing counsel will be doing their best to undermine the results. For this reason, the choice of lab doing the analysis can make or break a case.
Specialty analyses can require "out of the box" thinking. MAT-CS is known for its breadth and depth of knowledge in materials analysis so other labs frequently refer customers to us when they have run out of ideas. This means we frequently see requests for "impossible" analyses where:
the sample or feature of interest is too small for the lab to run
the concentration of the species of interest is below the level that standard equipment can detect
the materials are hazardous and won't be accepted by most labs
a special method must be developed and validated in order to satisfy a customer or regulatory need.
Labs come in all shape and sizes, and each has distinct strengths and weaknesses:
Large corporations:

These are well-known lab conglomerates like Eurofins, Intertek, Element, SGS, etc.
The labs have lots of capabilities, but it can be hard to navigate through their bureaucracy, especially if you don't know which of their hundreds of labs have what you need. It can take days or weeks for them to respond to general inquiries and sometimes they are unaware of even their own capabilities. Due to our years of experience, we know many of the individual labs within these groups and can go directly to them to get faster responses and more relevant analyses.
These labs typically have formal quality programs.
Mid Sized:

These labs tend to have a narrow focus (i.e., corrosion, polymers, legal, etc.)
Typically, they have evolved from the focus of their founder(s) and the specific needs of the industries they serve (petrochemical, biomedical, optical, semiconductor, etc.)
More and more of these labs are being absorbed into large corporate labs.
These labs may have formal quality programs or not, depending on their size and the requirements of the industry they are supporting.

Small

These labs may have just a few staff members, maybe only one!
They are able to do some very specialized analysis and do it very well, often based on Ph.D. or other research done by the founder or owner
Typically these labs have no formal quality program, but may be the only ones that can do the required analysis.

Universities and Government labs

These labs often have unique capabilities or instruments due to government/state funding.
They are not supposed to compete directly with commercial labs but frequently do.
Some are very commercial, with dedicated staff, formal reports, and low turnaround times, while others use grad students and can have variable quality and turn time
The labs do not have a quality program.

Instrument Manufacturers

Instrument manufacturers often have "demo labs" where samples are run for potential instrument buyers. These labs generally do not perform contract research analyses but in some cases, we have been able to negotiate agreements where they will analyze samples for us.
The advantage of using these labs is that they have state-of-the-art instruments that may not be available at any commercial lab.
Since equipment sales are their priority our work sometimes has a lower priority so turnaround times can be longer than other labs, but in some cases, this may be the only option for certain analyses.
These labs do not have programs.